Tour Mosack's
We would like to take you on a visual tour of MOSACK'S twelve rooms of shopping pleasure and nostalgia displayed in our three-story century home and attached storefront in historic Mentor, Ohio.
Our prayer is that people find rest, nourishment, fellowship and community within the 12 rooms of our charming century home (named after the twelve apostles)....just as the early followers shared the Spirit of Christ in their homes.
Betty & Joe Vento, Proprietors
ST. MATTHEW ROOM
---
Upon entering our store, you will see that our displays change seasonally - Advent to Christmas, Valentine's Day, Easter, First Communion, Mother's Day, Father's Day, Independence Day, Wedding and Anniversary, Summer Reading, Labor Day, Thanksgiving Day, etc. The newest product is featured just inside the door.
This first floor room also houses our signature collectibles: Willow Tree by Susan Lord is a collection of cast resin replicas of hand-carved sculptures that speaks in quiet ways to heal, comfort, protect and inspire. Family Relationship and Friendship Figurines, Plaques, Angel Blessings, Holiday Ornaments and Nativity Sets are beautiful keepsakes.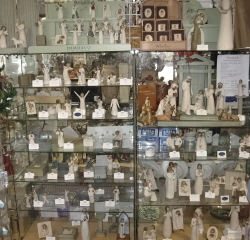 You will find new and retired Jim Shore's Heartwood Creek Figurines including everything from Angels to International Santa's. Check out our Heartwood Creek page for more information on artist Jim Shore and his heart-warming collection for every season and occasion.
MOSACK'S carries over 250 Precious Moments Figurines by artist Sam Butcher. In our lighted glass displays, you will also find additional accessory pieces such as crosses, frames, trinket boxes, etc. Don't forget to check out our special Precious Moments page for more information about Sam and his collection.
Also located in our first floor St. Matthew Room are displays of indoor statues of Jesus, Mary, Saints, and Angels. We have plaster and alabaster statues from Italy and Veronese Bronzes, Galleria Davina, as well as a line of pewter, porcelain, and resin figurines. Among these statues you will find the beautifully handcrafted Joseph's Studio collection.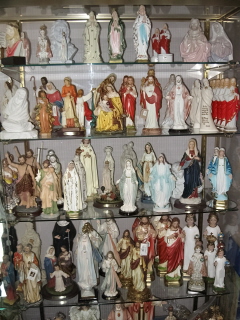 In addition to the many products shown above in the St. Matthew room we also carry over 200 rosaries, rosary bracelets, rosary cases, wall crosses and crucifixes, jewelry in sterling silver, goldfilled and 14 Karat gold, Baby and Baptism gifts, bi-fold saint folders with biography and prayer, holy cards, magnets, garden flags, and so much more!!!
Uplifting Christian Music CD's and Inspirational DVD's are tucked in a special section in the corner of this first level. Check out listings for your favorites!
ST. PETER ROOM
---
Our St. Peter Room on the first level is filled with over 7,000 books – with over 15 million titles available to order.
Books are organized by category (Family Life, Men, Women, Teens, Christian Living, Biography, Saints, Catechism, Children's, etc.) then by author. Bibles, Reference Books, Bible Studies, Liturgical Books have special sections. Bible covers, highlighters, bookmarks and other accessories are also available.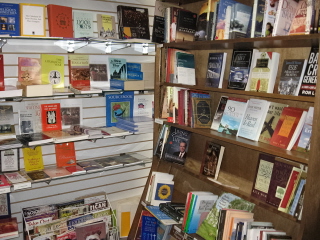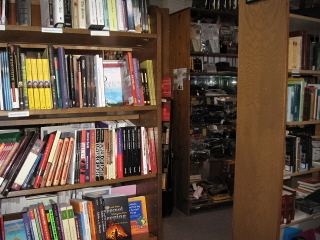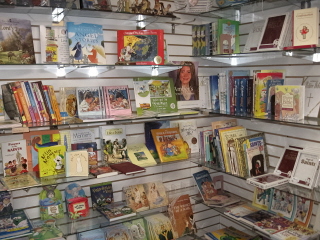 Moms, Dads, and Grandparents love the children's corner, and teachers are thrilled with the selection of resources we make available to them.
ST. JAMES THE JUST ROOM
---
Just up a short flight of stairs, the St. James the Just Room is located on the original porch area of our century home and has outdoor items on display indoors all year round. You will see cement statues as well as resin, PVC, resin-stone, and Joseph's Studio in subjects of Jesus, Angels, Mary, and Saints. You will also be able to choose from our displays of bird baths, bird feeders, bird houses, fountains, stepping stones, wind chimes, and lighthouse items.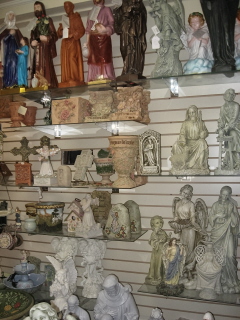 The St. James room also houses our Hope-Cancer Awareness Center which is filled with uplifting comfort crosses, prayer shawls, saint medals and holy cards especially appropriate for those who are ill and their caregivers.
ST. JUDE THADDEUS ROOM
---
Moving from the porch area, you can stroll into our fireplace room called the St. Jude Thaddeus Room, where you will find our Bereavement corner. Displayed here are Memorial Tear, Psalm 23 gifts, Urns, Merry Christmas from Heaven, Pins, Figures, Frames, Plaques, and Verse Cards.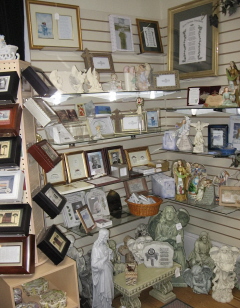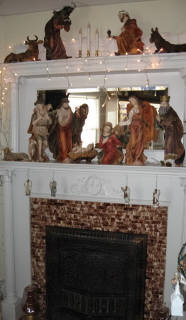 This room also displays Confirmation, Birthstone/Birthday and Pet Gifts.
ST. MATTHIAS ROOM
---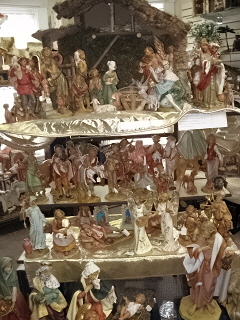 The St. Matthias room is where we have our wonderful Fontanini display of Nativities in 3.5", 5", 7.5", 12", 18", and 20" scale figures. We special order the 27" and 50" sizes for our customers. See also the many Fontanini buildings and accessories for the Nativities available for your purchase. Accent your home at Christmas with Fontanini glitter domes and ornaments. For more information about the Fontanini family from Italy and their extensive collection, please go to our Fontanini page.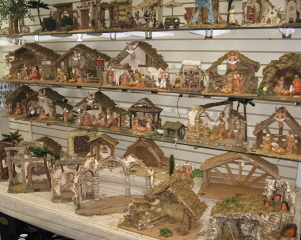 ST. ANDREW ROOM
---
The St. Andrew Room houses our greeting cards, note cards, stationery, gift bags, and other paper products. Greeting cards with Christian inspired messages are our specialty; many cards include scripture texts in their design. Listed below are some of the cards that we sell: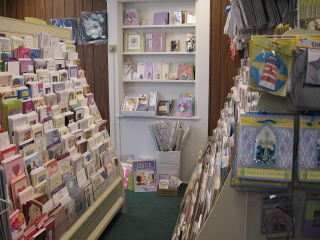 New Baby ** Baptism ** Christening Dedication ** Birthday ** First Reconciliation ** Holy Communion ** Confirmation ** Wedding Anniversary ** Ordination ** First Mass Diaconate Ordination ** Jubilee Clergy & Religious Anniversary ** Religious Vows ** Pastor & Clergy Appreciation Sympathy ** Get Well ** Valentine's Day ** St. Patrick's Day ** St. Joseph Day ** RCIA ** Easter ** Mother's Day ** Father's Day ** Thanksgiving ** Christmas ... Did we forget to mention one?
ST. BARTHOLOMEW ROOM
---
MOSACK'S Flag room, St. Bartholomew Room, has on display outdoor and indoor flags in a wide variety of sizes. United States flags are made in the USA in materials of nylon and also the heavier polyester, both with sewn stripes and embroidered stars.
Also on hand are Ohio and State flags, all Military branch flags, Papal and Christian flags, foreign flags, garden flags, sports flags and message flags.
Flag hardware and accessories for indoor and outdoor flagpoles including stands, snaps, trucks, ball tops, halyard, hardwood poles, fiberglass and aluminum flagpoles are well stocked.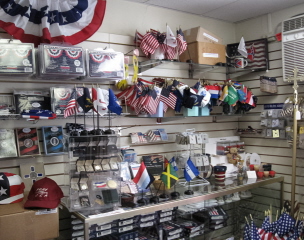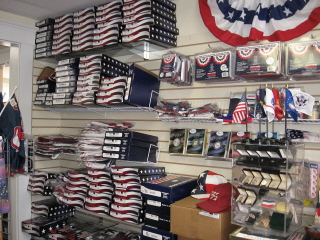 ST. PHILIP ROOM
---
As you leave the second level, follow our St. Philip Room Art Gallery up the beautiful wooden staircase to the top floor.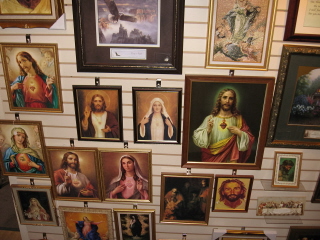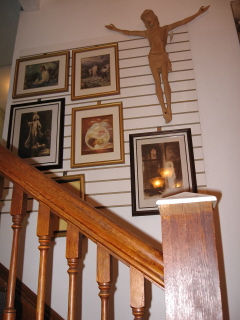 ST. JOHN THE EVANGELIST ROOM
---
At the top of the steps, the first room on the left is our St. John the Evangelist Room. In this spacious room you will find a walk-in closet filled to the brim with chasubles, albs, dalmatics, stoles, pulpit robes, choir robes, and judicial robes. This room offers the privacy of trying on clothes to get the proper fit, and seeing how you look in a wall length mirror. Our consultants are available to assist you in your selections.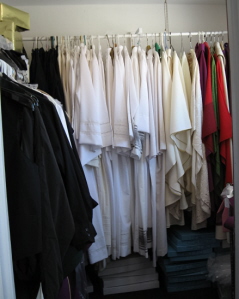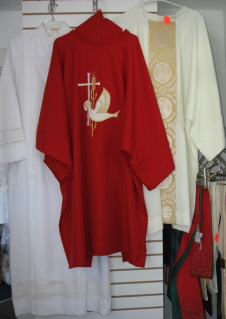 In our St. John the Evangelist Clergy Room you will also find Incense, Healing Balms and Oils, Candle Followers, Incense Burners, Church Incense, Communion Sets, Mass Kits, Chalices, Pyx and Burses, and Communion Ware.
ST. THOMAS THE APOSTLE ROOM
---
Our St. Thomas the Apostle Room is the next room on the left. This beautiful room with its wall of bay windows holds our Church Linens, Certificates, Envelopes, Bulletin Covers, Liturgical Books, Ministry Pins and Candle Fuel.
Also on display in the St Thomas Room are Clergy Shirts, Clerical Collars, Vests, Women's Clerical Blouses, and Polo Shirts for both men and women.
ST. SIMON ROOM
---
The next room on the right is the St. Simon the Apostle Room. Here we stock seasonal product that is not currently being featured on the first level - Wedding and Anniversary, Communion, Christmas, etc.
ST. JAMES THE GREATER ROOM
---
As you proceed down the hallway, additional framed prints and woven throws are on display. Follow your sense of smell as it will lead to the St. James the Greater Room. Here you will always find a pot of coffee brewing. Seasonally, we invite you to sample our special recipe of spicy, apple-flavored Wassail. The Wassail mix is also available for purchase.
This large loft-like room is where our Church Goods Office is located. Here you are able to sit down with a consultant, look through catalogs, and place orders in a relaxed atmosphere. We will assist you in setting up registries for Ordination, Weddings, or other special occasions.
MOSACK'S Outside!
---
Outside is open:
10 - 6:00 p.m. Mon, Wed, Fri, Sat
10 - 8:00 p.m. Tues, & Thurs

Items on display now: Fall & Thanksgiving themed items, Outdoor Statuary, Outdoor Nativities, and Outdoor Furniture. Not all statuary is pictured.
All of us here at MOSACK'S would like to thank you for taking our tour. Check back with us as we are always growing.